Get €60 Worth of Exquisite Food for €30 at the Superb Platform 61, South William St, Dublin 2!
50%
discount €60.00
usually
The Deal
Their story is inspired by the adventure that is Track 61, an abandoned underground platform under the famous Waldorf Astoria hotel in New York. This platform allowed VIPs to enter the hotel in a more private manner via a specially built private golden lift. One of the most famous VIPs that frequently used the platform was Franklin D. Roosevelt. Legend has it that Roosevelt's armor-plated car would drive off the train, onto the platform and straight into the especially made golden elevator, which would lead to the hotel's garage.
Believe the hype! Visit Dublin's coolest restaurant and discover the holy grail for the urban foodies!
What do you get with this deal?
50% OFF - €60 worth of food for €30 
---
Location
Platform 61
27 South William Street
South William Street, Dublin
---
Terms & Conditions
Reservation is Essential - You can book a table by CLICKING HERE

 

or visiting Menupages.ie and booking on the profile page of Platform 61

This voucher is valid until 31st August 2017

Available to use Tuesday to Sunday from 5.30pm to finish (ONLY available on Saturday for 5pm booking)

Groups or Multiple bookings are welcome 

Entire 

value must be used in one visit

Only available for food (any beverages are subject to billing)
This voucher is also subject to the full list of terms and conditions as listed here
Menu
Sharing
Charcuterie Board
Small €9
€16.00
To Start
Bruschetta
Garden fresh with basil, olive oil, garlic, fresh tomatoes and rocket +1 parma ham
€6.50
Prawns
Pan fried ginger and chilli prawns with baby spinach in garlic shallot butter served with grilled olive break and lobster mayo
€5.00
Nut crusted goats cheese
Nut crusted goat cheese, balsamic beets, wild honey
€8.50
Tuna tostadas
Seared tuna tostadas, chipotle sauce, avocado, crispy shallots
€10.00
Chicken and duck liver parfait

€7.00
The Main Affair
HAKE
Pan fried hake, braised peas with shaved fennel and mint salad, crushed baby new potatoes, vermouth sauce
€20.00
WILD MUSHROOM RISOTTO
Mascarpone and truffle oil foam, rocket, parmesan
€16.00
BURGER
Irish beef, brioche bun, homemade spicy relish, crispy lettuce, rosemary new potatoes (add bacon +1, add smoked Irish cheese +1)
€14.00
TEQUILA LIME CHICKEN
Chicken supreme marinated in tequila and lime, summer cannelloni beans, mango salsa
€18.00
PASTA
Papardelle, roast aubergine, confit tomato, hazelnut, rocket, parmesan, basil pesto (add chicken +3)
€16.00
BEEF
8oz Irish rib eye, rocket parmesan salad, confit shallot, rosemary new potatoes, short rib beignet (add chilli prawns +5)
€25.00
Sides
Roasted baby potatoes with chorizo

€4.00
Roasted baby potatoes with sesame

€3.50
Roast baby potatoes with truffle and parmesan

€5.00
Sweet potato wedges

€4.00
To End
Brûlée
White chocolate and raspberrr
€7.00
Brownie
Warm nutty brownie with vanilla ice cream
€7.00
Icecream
P61 ice queen with pumpkin seed oil
€6.00
Reviews
Second time here & loved it even more than the first time. Staff are lovely - really nice. Food was delicious. Will defo be back again.
What a great find - we had the early bird which is 2 courses for €20. I had the burger followed by creme brulee and my friend had the chicken followed by the fruit crumble - all were delicious and there was plenty of food. Even though we were there early there was a lovely atmosphere. Will definitely be back.
This restaurant is a hidden gem. It took us a while to find it but glad we did. Lovely restaurant. Food was lovely, good service and very good value for money.
We went here on a Groupon voucher deal. The atmosphere when we walked in was dark and the tables looked cramped.but we discovered there was another area behind. The service is amazing.really attentive and informative.but the winner here is the food hands down. Beautifully executed and presented. The steak in particular was…
I went for the à la carte menu. Platform 61 is, rather unusually for Dublin, downstairs - though in perfect location. The cons - it is really dark there (though this might suit those looking for, i.e, a date - as well as for a conversation about the problem of induction); the pros - if a restaurant visit is supposed to isolate…
---
Other Deals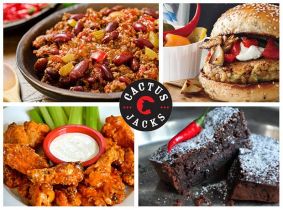 Cactus Jacks (Middle Abbey St)
Experience a Delicious 3 Course Meal for Two with a Bottle of Wine for Only €40 in Cactus Jack's in The Italian Quarter. Available to use 7-Days Per…
Shakshuka
Enjoy a 3 Course Meal for Two with Tea/Coffee & BYO for Only €29 at Shakshuka, Rathmines!
Lavanda
Enjoy €40 Worth of Food for €20 for Two in Smithfield's Hidden Gem, Lavanda! Available to use until November 2017...