Enjoy a 4 course meal for 2 with wine for only €39.99 in Slanes Most Famous Restaurant, The Poets Rest
56%
discount €90.00
usually
171
Bought!
The deal was completed
The Deal
The Poets Rest stimulates your five senses to enhance and potentiate the overall eating-out experience:
The Poets Rest in Slane is known as the best place to dine in Meath according to the locals. Ranked number 2 out of 7 of things to do while in Slane by TripAdvisor, The Poets Rest is synonomous with great food, fantastic service and happy clients
Now, with todays deal, you get the oppoetunity to enjoy 4 amazing courses in this picturesque restaurant accompanied by a glass of wine each for only €39.99, less than €20 per person.
Easily one of the best restaurants in Co. Meath, this deal wil sell out fast, so dont delay, get it today
Your Deal
Any 2 Starters
Any 2 Mains
Any 2 Desserts
Tea/Coffee
2 Glasses of Wine
ONly €39.99 for 2 people
---
Location
The Poet's Rest
Chapel Street
Slane, Meath
---
Terms & Conditions
Available 6 Days a Week from 5pm- Excludes Sundays
You must book online here
Valid until Jan 31st 2013
Excludes December 2012
This voucher is also subject to the full list of terms and conditions as listed here
Menu
Starters
Poets Rest Seafood Chowder s/w home made brown bread

€5.95
Garlic Mushrooms s/w Garlic dip

€5.95
Louisana Chicken Wings s/w salad & spicy sauce

€5.95
Tempura Prawns with Terriyaki Sauce

€6.95
Pate, chicken liver pate, red onion jam, crispy bread

€6.95
Cajun Calamari Rings with chilli dip

€6.95
Spicy Thai Fish Cakes with spring onion & sweet thai chilli dip

€6.95
Nachos, beef nachos with a sour cream, tomatoe salsa & guacamolerlic, Onion, Mushroom, Brandy & Wine Broth

€5.95
Classic Chicken Caesar Salad

€6.95
Roasted Goats Chesse Crostini on a toasted bread and black olive tapenade drizzled with pesto

€6.95
Bruschetta s/w fried mushrooms on ciabatta bread, garlic cream

€5.95
Chefs Specials
Dinner Menu Mains
Steak Sauces:
Pepper Brandy Sauce, Garlic Butter, Blue Cheese, Sweet Thai Chilli
Side Orders
Sauteed Garlic Mushrooms

€3.00
Desserts
Rhubab & Berry Crumble

€4.95
Selection of Icecream

€4.95
Classic Italian Tiramisu

€4.95
Chocolate Fudge Cake

€4.95
Sticky Toffee Pudding

€4.95
Apple Pie s/w ice cream

€4.95
Reviews
Food was delicious, the Waitress was brillant. Whole experience top notch.
Had a great meal and really pleasant waitress.
Had a wonderful dining experience food, service and atmosphere all excellent, not my first time to eat here and I wii certainly be returning
Fantastic food, great service and unbelievable value with our menupages deal! We arrived expecting our menupages voucher to cover a set menu but no we were told anything from the a la carte menu. I had a delicious goats cheese bruschetta with a lovely sauvignon blanc, followed by fillet steak cooked on a lava stone, just delicious.…
Met with 2 friends & had a great night out. We all had something different from the set menu & were not disappointed with either the portion size or the flavour. Our waitress, Donna, was superb, always nice to be greeted with a huge smile & nothing was any trouble to her (she deserves a 10 star rating!). We didn't have to wait…
---
Other Deals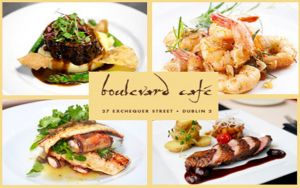 Boulevard Cafe
Boulevard Cafe on Exchequer Street- Dublin 2 is offering a €29 voucher worth €60 to Spend on Food & Drink
Wings Gourmet Burger
€16 for 2 Gourmet Burgers Or 2 Gourmet Salads + 2 Fries at Wings Gourmet Burger in the heart of Dublin City Centre
Spice Of India (Clonsilla)
Enjoy €40 to spend for €20 on the A La Carte Menu at Spice Of India in Clonsilla.